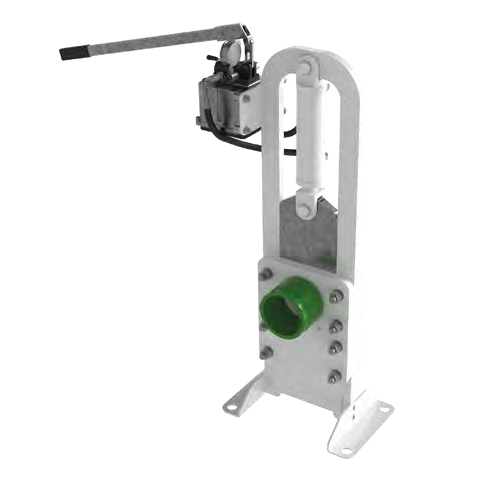 SHUT-OFF VALVES TYPE "1HT''
The product is normally installed as an accessory to block the concrete flow in lines with operating pressures up to 130 bar. The movement of the blade is managed through a hydraulic cylinder operated by a manual pump. On request, the supply can be completed with a power unit unit. Shut-off Valve for concrete. Shut-off valve 85-130 bar W.P. The SAR 1HT shut-off valve allows to stop the concrete flow in a pumping pipeline. The shutting of the valve is made by a hydraulic cylinder, operated by a hand pump.
WORKING PRESSURE: 85-130 bar, according to the required connecting system. Please ask for information. Easily installed, a system of internal seals prevents the leakage of the pumped material, ensuring performance and cleanliness of the surrounding area. Entirely removable, it allows operators easy maintenance. The maintenance kits allow the replacement of worn parts with low maintenance times. This model makes it possible to block the flow of concrete in environments where the working pressure is medium-high.
SHUT-OFF VALVES TYPE "1HT''
D.N.
MODEL - Tipo
PART NUMBER - Codice
kg
lbs
in
mm
3"
75/88.9
SAR SC30 1HT.P
S3016169
60
132.27
4.5"
100/127
SAR SC45 1HT.P
S3010223
110
242.49
5.5"
125/148
SAR SC55 1HT.P
S3005708
160
352.72