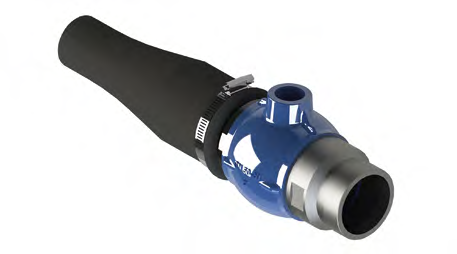 SHOT-CRETE NOZZLE - GN 5020 MODEL
The nozzle for shot-crete essentially consists of a hardened internal insert and an external body in aluminum alloy. It is possible to mount a wide range of collars while the tip can be supplied in rubber, two versions, soft and hard and in polyurethane. Dedicated fitting kits can be supplied on request. Nozzles for shot-crete applications GN 5020.
Housing made out of aluminium, body spreader in hardened steel, complete with rubber tip.
Available with Heavy Duty, Grooved, threaded or Cam Arm collar. The nozzle can be disassembled for a fast and smooth cleaning. Light, it allows operators to direct the jet effectively. Completely disassembled, it allows for simple cleaning and quick replacement of worn parts.
Download
IT
DESCRIPTION
GN 5020-2"
MODEL - TIPO
PART NUMBER
Codice
kg
lbs
SHOT-CRETE NOZZLE
Grooved end - Soft rubber tip
GN 5020 SC-S
L3005477
2.200
4.850
Heavy Duty - Soft rubber tip
GN 5020 HD-S
L3005499
2.400
5.291
Cam arm end - Soft rubber tip
GN 5020 CL-S
L3005465
2.460
5.423
Cam arm end - Polyurethane tip
GN 5020 CL-P
S3016422
2.450
5.401
1
Body
S3005426
0.360
0.794
2
Fitting
S3004043
1.180
2.601
3
Rubber tip - soft
K2050498
0.250
0.551
4
Rubber tip - hard
K3000413
0.270
0.595
5
Polyutherane tip
S3010261
0.240
0.529
6
Tip clamp
K3005493
0.027
0.059
7
Grooved end
S3005505
0.420
0.926
8
Raised end
S3010175
0.530
1.168
9
Cam-arm end
K3006733
0.625
1.378
10
Sealing set
S3010159
0.008
0.017
S1 - Fitting set
S3010202
0.655
1.444
S2 - Fitting set
S3005507
1.270
2.800