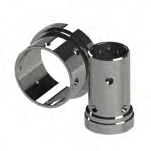 FITTING AND CLAMO - FA MODEL
The clamps tipe FA are used instead of the ferrules in less demanding conditions of use, by tightening the pipe near the internal collars rubber holder. Galvanized hose clamp complete with tightening screws. Allow for more economical crimping.
Download
RPE fittings are obtained by turning high quality pipes with high mechanical characteristics. They are assembled to the rubber hoses with screws which are fixed directly to the rubber hose. They are used when the working pressure is not particularly high and for pipes with a diameter between 2.5" and 4". Galvanized Hose fittings RPE. Easy to assemble even on site, they represent a valid alternative when working pressures are limited.
Download
D.N.
MODEL
Tipo
PART NUMBER
Codice
0 Min-Max
A
B
kg
lbs
in
mm
in
mm
in
mm
in
mm
3"
75
FA75
S3012393
3.15-4.33
80-110
5.90
150
1.26
32
0.75
1.65
4"
100
FA100
S3009690
4.72-5.51
120-140
7.28
185
1.26
32
0.87
1.92
5"
125
FA125
S3009755
5.75-6.57
146-167
8.46
215
1.26
32
0.94
2.07
6"
150
FA150
S3012394
7.48-8.35
190-212
10.08
256
1.26
32
1.05
2.31
D.N.
MODEL
Tipo
PART NUMBER
Codice
D
A
B
kg
lbs
in
mm
in
mm
in
mm
in
mm
2.5"
75/53
RPE 25 G - 52/120
S3012389
2.05
52
2.87
73
4.72
120
1
2.20
2.5"
73/58
RPE 25 G - 58/120
S3012390
2.28
58
2.87
73
4.72
120
0.98
2.16
2.5"
73/60
RPE 25 G - 60/70
S3012391
2.36
60
2.87
73
2.76
70
0.80
1.76
3"
89/70
RPE 30 G - 70/70
S3009775
2.76
70
3.50
88.9
2.76
70
0.75
1.65
3"
89/70
RPE 30 G - 70/120
S3009796
2.76
70
3.50
88.9
4.72
120
1.21
2.67
3"
89/80
RPE 30 G - 80/120
S3009669
3.15
80
3.50
88.9
4.72
120
1.04
2.29
4"
114/85
RPE 40 M - 85/70
S3009836
3.35
85
4.50
114.3
2.76
70
1.25
2.76
4"
114/87
RPE 40 M - 87/70
S3012392
3.42
87
4.50
114.3
2.76
70
1.17
2.58