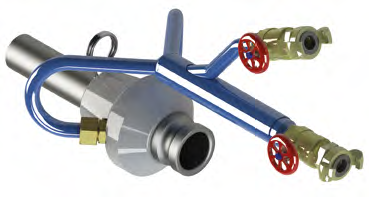 SHOT-CRETE NOZZLE - LC 50-CL MODEL
The nozzle for shot crete essentially consists of a hardened internal insert and an external nylon body in which two threaded connections are made. The tip is not foreseen
The fittings normally used are replaced by a suitably shaped pipe which allows simple connection with the dedicated flexible pipes present in the most common systems. The fitting necessary for the connection are provided. Nozzles for shot-crete applications LC 50 - CL.
Housing made out of nylon, hardened steel insert, steel manifold, with valves. 2"- 50 mm. The nozzle can be disassembled for a fast and smooth cleaning. Light, it allows operators to direct the jet effectively. Completely disassembled, it allows for simple cleaning and quick replacement of worn parts.
Download
IT
DESCRIPTION
MODEL - Tipo
PART NUMBER
Codice
kg
lbs
Complete NOZZLE
LC 50 - CL
S3010227
4.650
10.251
1
Body
S3010258
0.500
1.102
2
Fitting
S3010158
1.800
3.968
3
Manifold
S3010209
0.870
1.918
4
Fittings
S3011297
0.140
0.308
5
Valves
K3006730
0.250
0.551
6
Fittings
S3010256
0.210
0.463
7
Spring
K3005470
0.052
0.114
8
Sealing set
S3010213
0.002
0.004