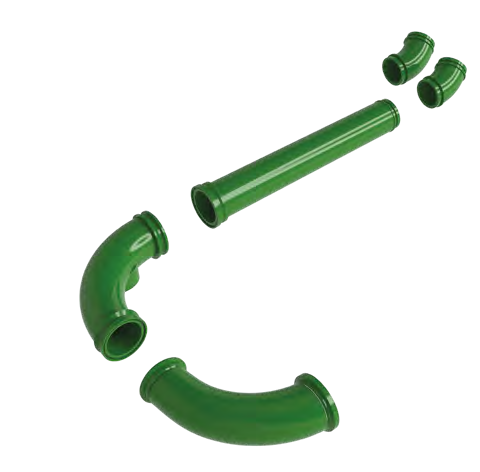 BACK END KITS SERMAC - TYPE 1
Sermac Truck Pump Kit - Type 1. The SERMAC Truck Pump kit is designed and produced internally using our foundry, carpentry and welding dept. Most of the components are available in both single wall manganese version and double wall version with chromium carbide inserts. It can be used both as a first installation and for the after-sales market. The quality of the components that complete the kits is guaranteed by our fully integrated processes, which include a foundry and a welding department. The internal laboratory verifies both the chemical characteristics and the mechanics of the batches.
RESISTENCE AND DURABILITY
Our SERMAC back end kit make it possible to insert text here working with Valme casted products the wear life and straightness of our back end kit lets operator work safetely and an easy replacement using our original components.
Download
| | | | | |
| --- | --- | --- | --- | --- |
| REF | DESCRIPTION | PART NUMBER Codice MN | PART NUMBER Codice LLN | PART NUMBER Codice LLH |
| 1 | Elbow MN 175FZ70/1S0MZ60 90G EXIT | S2031077 | / | / |
| 2 | Elbow MN 1S0FZ60/1S0MZ60 90G EXIT | S2031075 | / | / |
| 3 | REDU 150FZ60/125SCSS L1070 | S2030636 | S2030554 | / |
| 4A | Elbow 55 35G R235 | S2030376 | S2030343 | S2007997 |
| 4B | Elbow 1255C 426 R315 | S2030377 | S2030344 | S2030310 |