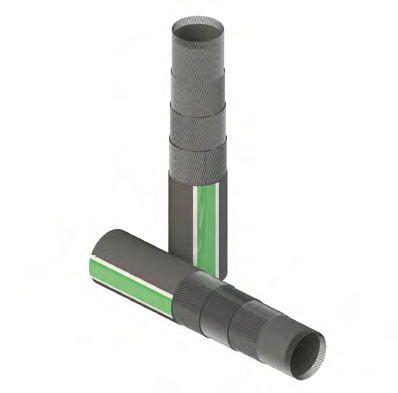 High performance rubber hose, allows high pressure pumping (up to 100 bar) of concrete, cement, mortar and drilling mud. The main characteristics are defined by the internal layer, in anti-abrasion synthetic rubber, by the external one, on which the micro-perforation process (pin pricked) has been applied and by the four metal layers which give a high strength even in the most demanding uses. They are complemented by hardened fittings suitable for mounting the most common systems.
Rubber Hoses for concrete.
- DESIGNATION: Rubber hose
- TUBE: Abrasion resistant synthetic rubber
- REINFORCEMENT: High-tensile steel cords
- COVER: Pin-pricked synthetic rubber
- OPERATING TEMPERATURE:-40°C to +70°C (-40°F to +158°F)
- WORKING PRESSURE: 100 bar (when new)
- BURST PRESSURE: 200 bar
- INTERNAL COLLAR: Tempered 50/55 HRC
According to the EN12001:2012
"Conveying, spraying and placing machines for concrete and mortar – Safety Requirements"
SAFETY FACTOR for pipes, elbows, couplings and accessories: 2
The high resistance of the hose and the hardened fittings guarantee a longer life and a great safety for the users. The robust construction allows to withstand the loads required during pumping even in the most demanding conditions and allows easy cleaning by reverse pumping.
Download
HOSE I.D.
HOSE O.D.
MAX WORKING PRESSURE
BURST PRESSURE
MINIMUM ELBOW RADIUS
WEIGHT
DN
mm
in
mm
in
bar
psi
bar
psi
mm
in
kg/m
lbs/ft
51
50.8
2
70
2.76
85
1230
200
2900
275
10.83
3.03
2.04
60
63.5
2.5
88
3.46
85
1230
200
2900
300
11.81
4.48
3.01
80
76.2
3
102
4.02
100
1450
200
2900
350
13.78
5.46
3.67
102
101.6
4
130
5.12
100
1450
200
2900
400
15.75
8.46
5.69
130
127
5
155
6.10
100
1450
200
2900
500
19.69
9.63
6.47